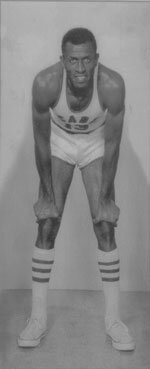 …an Axemen basketball star and first CIAU performer to be drafted by the NBA.
Perhaps the first basketball Axemen to achieve superstar status at the national level was American born Warren Sutton who joined the Stu Aberdeen-coached squad during the fall of 1960, combining well with the likes of Peter Simmonds, Gene Chatterton, Blair Dixon, and Richie Spears. History records, of course, that as a member of Acadia's Maritime Intercollegiate Championship-winning season, Warren enjoyed fantastic success.
At the first-ever Bluenose Classic he was the tournament's most valuable player and naturally an all star selection. Later he was named the league's MVP and one of its all star members.
That season too, he established a host of team records. His 393 points for a season was Acadia's best-ever performance, giving him a best single season scoring average of 18.7. Other Axemen records included 23 rebounds in one game; a best rebound average for a single season -14.9; most assists in one game -17; and best assist average for a single season -7.2.
He started off the '61-'62 season in top form, being a member of the Aberdeen-directed charges that won the Bluenose Classic as the Axemen blasted Hussen, 75-48, and shaded Norwich, 80-79. Individually, Mr. Sutton was named the tournament's MVP and joined teammate Richie Spears on the all-star team.
In a subsequent contest against the McGill Redmen, Warren and Pete Simmonds each enjoyed 30 point performances in a 94-50 Axemen victory.
At the Quantico Tournament, he was voted to the all-star team, while registering 24 and 19 points respectively over Quantico and Catawha (Northern Califonia) aggregations, despite the Axemen's suffering 118-57 and 85-62 losses.
Disaster struck the Acadia campus on January 12, 1962 with the announcement that Warren was declared ineligible for further interscholastic play, having performed a portion of a game with Alfred University a few years previously, following two complete seasons with that same squad.
Ironically, in '63-'64 he was again prominent in CIAU action, being the tournament's MVP in National Championship play for the Sir George Williams University.
Subsequently, drafted in the twelfth round by the St. Louis Hawks, being the first performer from a Canadian University to be so honoured, Warren has spent the past thirty years as coach of women's university, senior and junior teams in Ontario and Quebec.
What a pleasure it is to welcome back to Acadia for induction to the Sports Hall of Fame, Mr. Warren Sutton, one of the finest basketball players ever to appear in CIAU play.