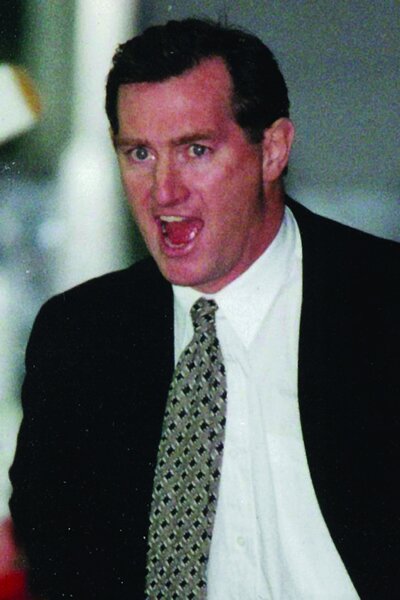 Coolen, a native of Halifax, N.S., played for the Dalhousie Tigers and Saint Mary's Huskies during his undergraduate degree. Coolen began his university coaching career as an assistant coach with the UNB Varsity Reds, capturing an AAAU title in 1983-84. Prior to his appointment at Acadia in 1986, Tom completed his MA in physical education at Central Michigan University. For two seasons after graduation, Coolen served as an assistant coach at Ferris State College in Big Rapids, Michigan.
Coolen's time at Acadia spanned eight seasons. His 201 regular season games as the Axemen's bench boss accumulated an astonishing 144 wins, 42 losses, and 15 ties. Coolen captured a 1992-93 CIAU national championship and three AAAU championships during his tenure at Acadia from 1987 to 1995.
At the 1992-93 CIS (CIAU) Championship tournament played at the historic Maple Leaf Gardens, Coolen lead the Axemen to a 12-1 victory over the powerhouse Toronto Varsity Blues to capture Acadia's first men's hockey national championship.
Coolen received the Father George Kehoe Memorial Award for CIAU Coach of the Year in 1993. He regained the award again after the 1994-1995 season when he posted a 22-1-3 record – the best regular record of any Axemen hockey team since its inception in 1894.
Over the past twenty years, Coolen has coached all around the world including the Calgary Flames farm team – the AHL Saint John, N.B. team; the University of New Brunswick – winning another AUS championship; in the QMJHL with the Moncton Wildcats and several years in the Elite leagues of Europe.
The last four years have seen Tom at the top of his profession cumulating with coaching stints at the IIHF World Championships in Finland and Belarus, and the most recent Olympic Games in Sochi with Team Latvia, followed by this past season with the NHL's Buffalo Sabres.