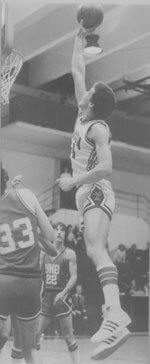 Windsor Regional graduate Ted Upshaw, rated a High School All-Canadian, was an outstanding basketball Axeman from the fall of '76 to the spring of '81. During these five academic years he was a standout athlete on the Acadia hoop squads that won a National title and a couple of runner up awards in Canadian championship play.
During his rookie season of '76 -'77 he was considered to be Acadia's "sixth man" behind such luminaries as Alvin Jessamy and Ed Shannon on the Dick Hunt -coached National championship squad. For his sophomore season he exhibited vast improvement in all facets of his game, benefiting from summer performances with the National Junior Olympic team.
As the Axemen defeated St. FX, UNB, Laurentian and York, in playoff action, before bowing to St. Mary's 99-91 in the CIAU's championship game, Ted, combining with such all-stars as Mike Hazard, Vic Soares and Gordie West, achieved impressive offensive numbers.
During his junior year in Axeman attire he continued to polish his skills scoring, for example, in a three-game Nova Scotia Invitational Tournament, a total of eighty points. Leading the Axemen in rebounds with 7.5 per game and increasing his scoring to just under nineteen points per contest, this gifted Hants County native was voted to the conference's second All-Star team and received the Gib Chapman Award, representing the squad's best all-round team player.
His graduation year, 1979-80, was filled with great moments and much-deserved accolades. His scoring average improved to twenty- three points per game and his rebounding increased to just fewer than ten per contest.
As a club the Upshaw -inspired Axemen fittingly won the first annual Stu Aberdeen Basketball Tournament, in the final contest, defeating York, 90-83. Posting impressive numbers in regular schedule play, the Axemen lost to S.M.U., 86-85, in the AUAA final. Individual honours included the prestigious MVP award in conference play, first team All-Star selection in the AUAA and second team accolades in cross-Canada voting.
Returning to Acadia during the '80-'81 academic year, Ted was a major contributor to the Ian MacMillan record-breaking squad that is being inducted into the University's Sport Hall of Fame.
Individually, this present-day inspector with the Royal Canadian Mounted Police, established for Acadia records in league play for most field goals, 215, and most points, 524. Averaging twenty-nine points per game and ten rebounds per contest, he again collected major awards. He was Acadia's basketball MVP and the school's top male athlete, the AUAA's most valuable player and first team All-Star and CIAU All-Canadian.
It is a pleasure to welcome back for induction to Acadia's Sports Hall of Fame, Ted Upshaw, a record-breaking All-Canadian basketball athlete.