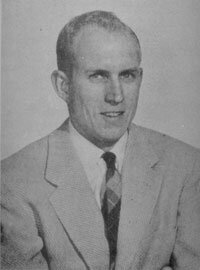 PHYSICAL EDUCATION INSTRUCTOR AND COACH AT ACADIA (1952-57)
…a teacher/coach -dedicated to the pursuit of excellence and fair play.
Robert Douglas, born in Elizabeth, New Jersey, came to Nova Scotia during the Summer of '51 as a baseball pitcher with the Kentville Wildcats of the famed Halifax and District League. That fall he remained in the Valley, serving as a physical education teacher at KCA. Previous to his coming to Nova Scotia, Bob had graduated from Springfield University with a major in physical education. This, however, had followed a stint of two years with the American Army.
Coming to Acadia during the fall of '52, Bob served as physical education instructor and coach of men's basketball, soccer and swimming teams until the termination of the '56-57 academic year.
In his five-year coaching experience with the Axemen, Mr. Douglas exemplified the best of Acadia's tradition: guiding competently instructed and competitive clubs to levels of excellence while displaying a keen sense of sportsmanship.
In soccer, he was successful in guiding teams that seriously challenged UNB and King's College in playoff action.
In basketball, "Blond Bob" -to distinguish him from his namesake of QEH basketball fame -enjoyed a very successful stint, directing the likes of Claude MacLachlan, Jack Garnett, Jim Logue and "the other" Bob Douglas to very successful seasons. It must be remembered that the St. F.X. club was in the midst of a dynasty -representing a decade of basketball excellence. Consequently, each season the Douglasmen excelled with records of 14-4 and such, but each season fell short in the league finals against the likes of luminaries Korbut, Moran and Hilton.
For the Axemen followers those were exciting days and the performances of Garnett, Douglas and MacLachlan are still fondly recalled.
In varsity swimming, the Axemen, under Mr. Douglas' guidance, were even more successful. The '55-56 season was a 'dramatic one as the boy's ended UNB's eight-year reign as Maritime champs when team captain Paul Chandler, Dave Rogers, George Donnelly, Ralph Chown, Wayne Hall, Cliff Smith, Bill Mason and others accumulated forty-five points to win the tri-province crown.