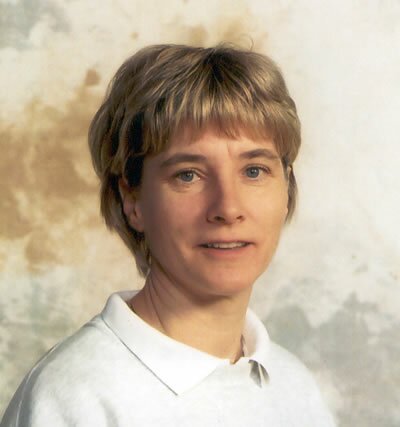 New Brunswick native Laura Sanders arrived at Acadia in 1984 to coach women's varsity basketball and soccer, which had not yet achieved varsity status.
Laura would coach basketball at Acadia for 20 seasons and although her basketball teams had their moments, her greatest success would come on the soccer pitch.
In Laura's first season, the Axette soccer club finished with a 9-2 record, losing one game in the regular season and one in the playoffs. With Judy Farrell and Gunnhildur Baldursson leading the way on the field, the 1985 Axettes mounted a serious challenge for the conference title and Laura earned her first conference Coach-of-the-Year award.
By the fall of 1987, women's soccer had been sanctioned as a CIAU sport. The Axettes were victorious in 13 of 15 games en route to their first conference title. All-Canadian keeper Janice Cossar had 11 shutouts. Acadia scored 41 goals and allowed only 2. The season ended with a 1-0 loss to McMaster in the semi-finals of the first-ever women's soccer nationals.
Cossar says of Sanders, "she instilled the belief in players that success was expected for Acadia soccer. Laura had the ability to motivate and lead, taking players to levels they might not have thought possible prior to attending Acadia. I was one of those players.
"After my years of playing at Acadia, I became an assistant coach with Laura for the next 10 years and witnessed a different side of the at times demanding, yet caring individual. It was always about the same thing; how to get that particular athlete to achieve their potential. If that could be done, success for the team would follow."
But tragedy struck after the 1987 season, when leading scorer and All-Canadian Gunnhildur Baldursson was killed in an car accident. The Axettes entered the 1988 campaign with heavy hearts, but ended it with a second straight conference title and recognition as the second-best team in the country.
Laura was named AUAA Coach-of-the-Year as Acadia made it all the way to the CIAU final, defeating Alberta in an overtime shootout before dropping a 2-0 decision to Queen's.
Hopes were high for 1989, especially since Acadia would host the nationals. The Axettes walked in through the front door after a 10-0-2 regular season and a 1-0 win over Saint Mary's on penalty kicks for a third straight conference title. Laura was named Coach-of-the-Year for a second straight season.
At nationals, Acadia lost 3-2 to McGill in the semi-finals, but came back to edge Wilfrid Laurier 1-0 in the bronze medal game.
However, the disappointment of 1989 set the stage for 1990, when Acadia went all the way and captured the national crown. After finishing the regular season with a 9-0-1 record, the Axettes edged Mount Allison and Saint Mary's by 1-0 scores to capture a fourth straight championship.
In the eastern semi-final in Wolfville, Acadia nipped Wilfrid Laurier 2-1 on penalty kicks. Rookie of the Year Cindy Montgomerie had Acadia's goal in regulation time and all five Axette shooters scored in the shootout. In the final in Vancouver, Dara Moore had the decisive penalty kick in a 1-0 victory over UBC.
This time, Sanders added CIAU Coach-of-the-Year honours to her third straight conference Coach-of-the-Year award. She would add another Coach-of-the-Year award in 1994.
Acadia won a fifth consecutive AUAA title in 1991 and then played in the conference final four straight years, from 1993-1996, winning a sixth conference title in the latter year. Keeper Angela Morrison didn't allow a regular season goal in that 1996 season and then, after surrendering two in a 3-2 semi-final win over Saint Mary's, blanked St. F.X. 2-0 in the conference final.
Laura continued to coach women's soccer at Acadia until 2001. Since her departure from Acadia in 2004, she has continued to live in Wolfville and has successfully completed the necessary training to be a basketball official.
For a five-year stretch, Laura's soccer teams were among the best in Canada, compiling an overall record of 64 wins, five losses and 11 draws, winning one national title and coming within a whisker of capturing three in a row.
Please join me in welcoming to the Acadia Sport Hall of Fame, in the Builder category, Laura Sanders, an extraordinarily successful soccer coach who brought glory, recognition and on-field success to Acadia.