Jean (Ingraham) Haley- 1937
Inducted into the Hall of Fame in 1988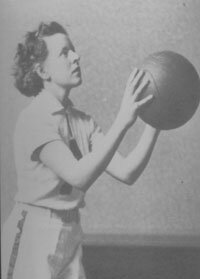 Jean (Ingraham) Haley, born in North Sydney, NS, and a graduate of Wolfville High School was a superstar in athletics at Acadia from the fall of 1933 to the spring of 1937. She excelled in gymnastics (tumbling), swimming, tennis and basketball.
During that span of time she won more that her share of victories in tennis and swim competitions and was a first class performer on the Dr Teny Osborne – coached gymnastics club.
Basketball, however was the sport with which she became synonymous, being a vital part of the Osborne coached clubs that won Maritime Intercollegiate titles in 1934, 1936 and 1937.
Even as a freshette during the 1933 -1934 campaign Jean shone -scoring, for example, 22 of her team's 38 points in the championship game against Dalhousie University. Following an off-season in 1935, in which the team failed to repeat as Maritime champs, Jean and her team mates rebounded well during the subsequent court season, sweeping aside Mount Allison to capture the coveted trophy.
Combined with Fran Roach and Shirley Elliott on the forward line, the trio became a fearsome offensive combination. It was, however, in her graduating year, 1937, that she reached the apex of her athletic career, leading the Acadia team to a Maritime title in an undefeated season. In fact, Jean, Fran Roach and Shirley Elliott, the so- called "Punch Line", scored all of their team's baskets in a 38-18 mauling of the Dalhousie Tigerettes in the season's final game.
For the next couple of seasons, Jean was in charge of the Acadia club, guiding them to yet another Maritime Championship in 1939.
It is indeed an honour to induct Jean (Ingraham) Haley to Acadia's Sports Hall of Fame.