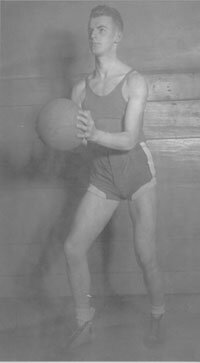 The late Francis Mouzar, a 1944 graduate of Acadia University and a longtime baseball star of the Nova Scotia and Maritime-championship winning Liverpool Larrupers, was excellent in both intercollegiate basketball and English rugby.
First appearing on the Acadia campus in the thirties as a student of Horton Academy where he starred in athletics, he was as an Axeman for four seasons, a team leader and driving force on both the basketball court and rugby field. The South Shore native was an aggressive performer during the war years of the early forties when the Fred Kelly-guided Axemen competed mainly in exhibition tilts against provincial senior clubs and service-based squads.
In Halifax City League play during the fall of '41, "the galloping Larruper" and Wilf Anderson, another Nova Scotia senior baseball player, were luminaries in an 8-5 triumph over Saint Mary's. The Athenaeum's account of that particular game noted: Mouzar, who at last has found time for football in his crowded timetable, was the star of the game. He scored the winning try and added a lot of pep to the scrum.
In a subsequent encounter that season against the Halifax Navy, Mouzar shared offensive honors with teammate Carl Purdy. Playing again in the Halifax City League during the fall of '42 with Dalhousie, Halifax Navy and the No.23 Training Centre team providing the opposition, the talented Mouzar combined with Purdy and Win Langille to inspire the Kellymen to an 8-6 victory over the Navy. In a 19-3 blasting of Dalhousie, Mouzar, Eldridge Aikens, and Will Smith drew the praise of the press.
During his senior year, Fran and teammates opened the football season with impressive 5-0 and 31-3 victories over the Halifax Army and Halifax Navy teams respectively. Soon after, in a 3-0 win over Burnie Ralston's Dalhousie Tigers, Mouzar scored the lone try as he plunged underneath two would-be attackers. In a subsequent 27-0 victory over the Navy team, he again figured prominently in the scoring. Kelly's Axemen ultimately clinched the City League crown with a 5-0 victory over the Halifax Navy as the quick-moving Liverpool native scored the lone try with just a few seconds remaining.
On the basketball court, Fran Mouzar, ("Galloping Gilbert" or "Fiendish Francis" as he was sometimes called) was, perhaps, even more effective, combining an aggressive style of play with an uncanny scoring ability .In his freshman year, Mouzar combined well with Yarmouth Gateways' baseball star Greg Titus and Lynn Brannen in several exhibition tilts against provincial senior and intermediate squads. During his sophomore season, he recorded impressive scoring numbers as the Axemen engaged in early season contests against the Halifax Army and Dalhousie Tigers. In a subsequent two-game total-point series with Mt. Allison, Fran and Dalton Camp shone offensively in a 24-23 loss. In the concluding tilt, he chalked up a total of 18 points in a 37-27 Acadia victory.
For his fine efforts that season, Mouzar was chosen to the City League's all-star team and was voted by the experts as equal in aggressiveness and shooting accuracy to the Navy's scoring sensation, "Rip" Seeley. In the opener of the 1942-43 basketball schedule for the Axemen, the fine offensive unit of Mouzar, Eddie Rogers and Bruce Corey shone in a 36-24 win over Aldershot Army and in a 32-31 victory over Greenwood. In competition for the Provincial Intermediate Crown, the Axemen defeated the Halifax Navy and Sydney Navy intermediate teams by scores of 60-49 and 85-80 respectively. Needless to say, the dynamic duo of Mouzar and Eddie Rogers posted high individual point totals. Against a quick U.N.B. team for the Tri-Provincial Crown, the magical scoring touch of the highly competitive Mr. Mouzar was somewhat diminished.
In his senior year of court action, Mouzar again shone in the midst of such accomplished teammates as Rogers, Corey and "Doc" Morton, posting impressive point totals in victories over Halifax Y.M.C.A., Aldershot Army and H.M.C.S. Kings. Against H.M.C.S. Cornwallis, however, for the Provincial Senior Title, the offensive heroics of Rogers, Corey, Mouzar and all fell short as the Valley-based service team recorded a fifteen point margin in the two-game series.
Returning to Acadia after a brief period in the Canadian Army, Francis graduated in 1946 with a Bachelor of Education degree. During his long and distinguished tenure as an educator in the Nova Scotia School System, he served as principal of schools in Canning, Mahone Bay, and Bridgewater. He terminated his professional career as Superintendent of Schools for Queens County .In his teaching career, he devoted hundreds of hours to "coaching" high school and community teams in both basketball and baseball.
What an honor it is to induct posthumously to the Acadia Sports Hall of Fame, Francis Mouzar, an outstanding basketball and rugby Axeman, a distinguished educator and a very giving human being.