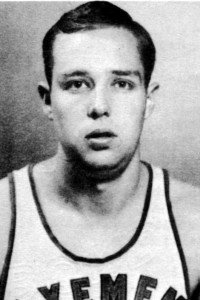 One of the best 'big men' of his time, Dave Rode starred on the Acadia men's basketball teams from 1963-1966.
On teams that featured players like Richie Spears, Steve Konchalski and Brian Heaney, Dave Rode was the leader, and was generally acknowledged as the glue that made the Axemen as good as they were.
Dave played on three consecutive conference champions, made three appearances at the CIAU nationals, and helped Acadia to its first CIAU title in Halifax in 1965.
A gifted scorer and rebounder, Dave set the national collegiate record for rebounds in a national championship game with 23 – a record that stood for 40 years.
His career-high 52 points (on a team that usually stressed teamwork over individual heroics) in a 122-41 win over Mount Allison during the 1965-1965 season was also an Acadia record at the time.
Dave Rode, however, was more than just statistics, and it is more than statistics that make him a Hall of Famer.
"His leadership was unparalleled," says Dr. Jim Logue, an Axemen assistant coach during Dave's time at Acadia. Not only was Dave 'a coach's dream'; he was like another coach on the floor, a dedicated team captain who demanded excellence, both from his teammates and from himself.
Acadia Athletic Director Brian Heaney, a teammate of Dave's for two seasons at Acadia, points to his outstanding skills as a rebounder, passer and offensive centre, and his tremendous knowledge of the game.
Dave was also, in Heaney's words, 'the quintessential winner'; the Acadia teams on which he played lost just one conference game in three seasons. He placed high demands and high expectations on his teammates as well as himself, and provided an excellent example, both on and off the court.
After graduating from Acadia with Arts and Education degrees, Dave had a successful 35-year teaching career in his native Coatesville, PA, coaching junior varsity basketball and soccer and serving as Athletic Director at Coatesville Middle School and Assistant Athletic Director at Coatesville High School.