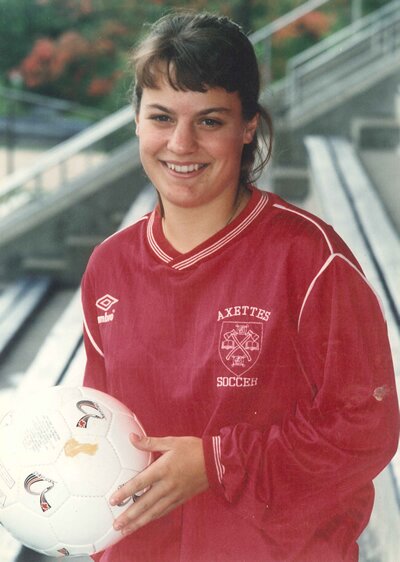 Cindy Montgomerie arrived at Acadia in the fall of 1990 to play varsity soccer for Laura Sanders's Axettes. She joined a program that had won three straight conference titles, as well as a silver medal at the 1988 nationals.
There were no first-year jitters for Cindy, who played from the start like a seasoned veteran. At season's end, she had won the conference Rookie of the Year award and helped Acadia to a fourth straight AUAA title.
And the best was yet to come, as the Axettes beat all comers at nationals in Victoria, bringing home the 1990 national title.
Cindy went on to earn all-conference status in each of her five years at Acadia, and in 1993-1994 and 1994-1995, she was both an athletic and an academic all-Canadian.
As a youngster, Cindy lived and breathed sports – and not just soccer. She was equally talented in basketball, softball and especially ringette, but when it came time to choose, her choice – her life's choice – was soccer.
With Cindy part of the roster, Acadia made it back to nationals in 1991, and ended up the consolation winners. In her final two years, the Axettes lost to Dalhousie in the conference final.
All-star and MVP awards, including a conference MVP in 1994, seemed to follow her wherever she went. She was Acadia's Female Athlete of the Year in 1993-1994 and 1994-1995.
As noted by Coach Sanders, "Cindy was a committed athlete who possessed exceptional skills in the game. She was a tremendous leader both on and off the field whose style was to lead by example. Her performance flourished in situations where stacks were highest. Although she had the talent to be a game changer the quality I admired most was her ability to make those around her better."
After graduation, she moved on to senior soccer, helping her teams win 12 provincial championships and six national medals – four silver and two bronze. She won national gold in 1995 with a team from Edmonton.
Cindy spent two years, 2001 and 2002, playing with the Canadian national women's soccer team. Since her retirement from active competition, she has turned to coaching, developing and promoting soccer.
Cindy was inducted into the Nova Scotia Sport Hall of Fame in the fall of 2010.
Please join me in welcoming to the Acadia Sports Hall of Fame, in the athlete category, Cindy Montgomerie Tye, one of the finest female soccer players and athletes to ever play for Acadia, and a credit to the sport she loves.