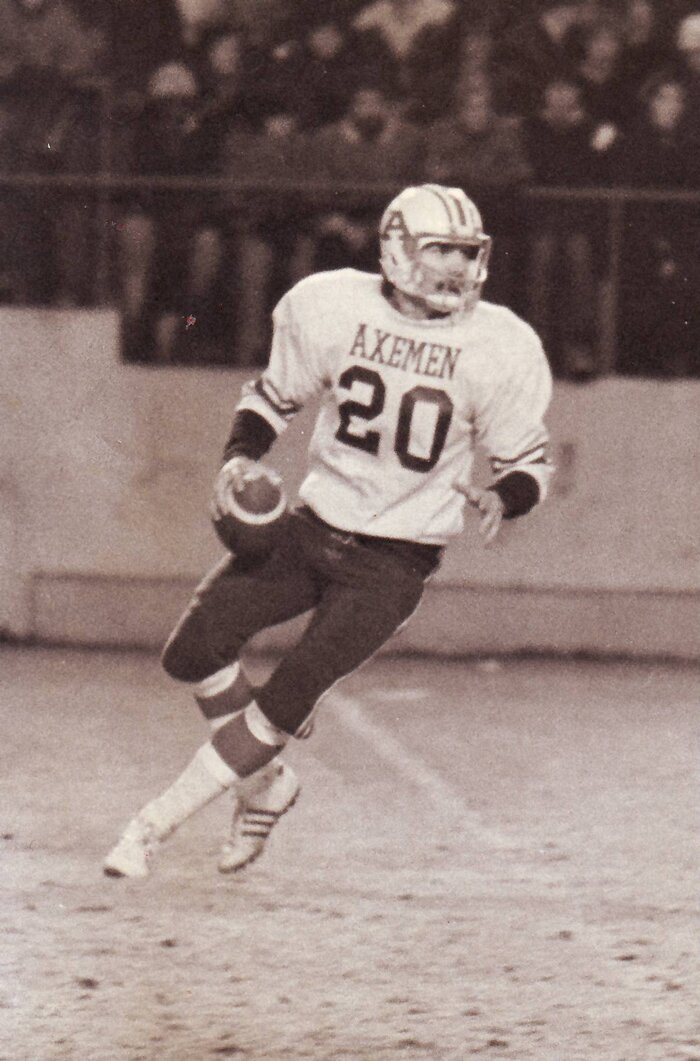 Bob Cameron arrived at Acadia from his native Ancaster, ON in the fall of 1974 and, over the next five seasons, did as much as anyone to usher in the 'Golden Age' of Acadia football.
Cameron took over as Acadia's starting quarterback in his second year and led the Axemen to three straight conference titles, a pair of Atlantic Bowl victories and back-to-back Vanier Cup appearances, in 1976 and 1977. And while he wasn't physically part of Acadia's Vanier Cup winners in 1979 and 1981, many of those he had played with were on those teams and owed a lot of their success to the examples he set. He ended his career in 1978 as a four-time all-conference selection and the 1977 winner of the Hec Crighton Award as the CIAU Football Player of the Year.
Cameron quarterbacked Canadian teams in the first two Can-Am Bowls, a short-lived venture that pitted Canada's best university players against the best from the U.S. He was voted the MVP (for both teams) in the 1978 game. He was also a talented punter and a conference all-star punter five times.
Even today, 35 years after he played his final university game, he remains in the top-10 in the AUS record book in six different career statistical categories. His conference record of 35 pass completions in a game stood for 30 years before being broken in 2007 by then-Axemen quarterback Keith Lockwood.
"Bob was the key to our successful Acadia teams of the '70s," says his coach, Bob Vespaziani. "He was a very good Canadian university quarterback, he was an excellent punter, and went on to punt for more than 20 years in the CFL. He was a great player, a great teammate, and is an even better person."
After graduation, Cameron went on to a long and successful professional career as a punter. He entered the CFL in 1980 with the Winnipeg Blue Bombers, for whom he played 23 seasons, retiring finally at the age of 48.
He left as the CFL's all-time leader in games played, career punts and punting yardage. He remains the career leader with 134,301 regular season punting yards. A three-time Grey Cup winner with Winnipeg, he was a four-time CFL all-star and a six-time divisional all-star. He was the Most Valuable Canadian in the 1988 Grey Cup game for his outstanding punting in difficult wind conditions. He was also the CFL's 'iron man', playing in 353 consecutive games.
In 2009, Cameron was inducted into the Nova Scotia Football Hall of Fame. In 2010, he was inducted to the Canadian Football Hall of Fame, which recognized not only his professional, but university career as well. He is also a member of the Manitoba Sports Hall of Fame, and his induction to the Acadia Sports Hall of Fame is long overdue.
The Acadia Sports Hall of Fame is pleased to induct, in the athlete category, CIAU football player of the year and Hec Crighton Trophy winner, Bob Cameron.