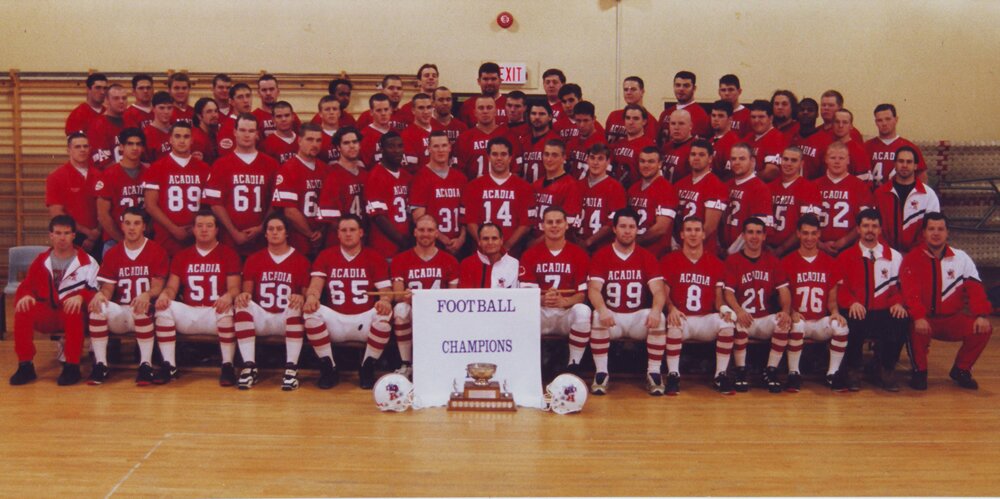 In 1993, the Acadia Axemen ushered the CFL spread offense into the CIAU, led by offensive coordinator Danny Laramee and head coach Sonny Wolfe. By 1995, Acadia has mastered a passing game that was nearly unstoppable.
The team registered 214 points in eight games in a conference that boasted four strong teams, including the St. F.X. X-Men; the Saint Mary's Huskies; and the Mount Allison Mounties.
The 1995 Axemen posted a 6-2 record, losing two of three meetings with St. F.X. Held to no points in a 26-0 loss to X in week six, the Axemen rebounded with wins against Saint Mary's and capped the regular season with a decisive 14-2 win over the X-men, giving Acadia home field advantage for the AUAA championship game.
While senior pivot Larry Jusdanis was the centre of attention, he was supported by a group of receivers that set several AUAA records at the time. Three of the four AUAA All-Star receivers were from the Axemen and included Grant Davy, Dave Stefnitz and Lee Barette, who each recorded over 700 yards during the season.
In an October 14 game versus the Mounties, Jusdanis set an AUAA record of 501 yards passing while Davy pulled in 13 receptions for 300 yards. Both records still stand today.
At the time, only the top two teams in the AUAA standings would play in the post-season. In front of an unofficial record crowd of nearly 5,000 fans, the Axemen defeated St. F.X. 13-8 for their first AUAA championship since the 8-0 season of 1986.
While Jusdanis and the receiving corps led the country in net offense, senior kicker William Godfrey led the conference with 72 points, including 15 field goals, 21 converts and six additional points. On the defensive side, Acadia was well represented by All-Stars John Horning on the defensive line and linebacker Matt Malowney, along with senior linebacker John Kane. Three Axemen were named All-Canadian: first team pivot Jusdanis and second team receivers Davy and Stefnitz.
The Axemen faced the University of Western Ontario Mustangs in the CIAU Atlantic Bowl at Huskie Stadium in Halifax. To this day, the 55-45 Axemen loss to the Mustangs is the highest scoring National Bowl game in CIS history. Down 41-14 at the half, the Axemen offense kicked in and they battled back to within three points, 48-45. Jusdanis threw for 438 yards, 314 of them in the second half.
It was an exciting albeit disappointing end to a tremendous season, memorable for its drama and the grit Acadia displayed in forging such a comeback. The Acadia Sports Hall of Fame is pleased to induct in the team category, conference champions, the 1995 football Axemen.