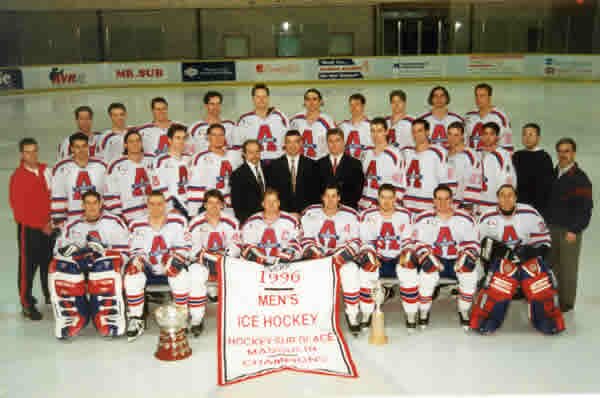 The 1995-1996 Acadia hockey Axemen captured Acadia's second CIS hockey title in four years, with the ability to both steamroll the opposition and, when necessary, win the close games as well.
Despite a formidable lineup recruited by head coach Tom Coolen, the Axemen program was thrown into disarray when Coolen left shortly before training camp to join the coaching staff of the Saint John Flames. In stepped head coach Mark Hanneman and associate coach Mike Alcoe, former assistants under Coolen who, along with assistant Darren Burns, led the talented Axemen squad all the way to the CIS title.
"We didn't try to change a whole lot of things," Hanneman said after the season. "We just tried to put our stamp on the team. The players believed in us and in our system, and believed in themselves."
The 1995-1996 Axemen had just about everything – offense from AUS scoring champion Jason Weaver, Greg Clancy, Wade Whitten and Christian Skoryna, solid defense from all-Canadians Sean O'Reilly and Paul Doherty and great goaltending from rookie Trevor Amundrud.Their skill and ability was greatly appreciated by enthusiastic crowds who flocked to Acadia Arena, even for exhibition games, to watch them play.
The Axemen compiled a 19-6-1 regular season record, then capped a 5-2 playoff run by edging the UPEI Panthers 7-6 in the deciding game of the conference final – a close series in which all three games went to overtime – with Paul Doherty scoring the series-winning goal.
Acadia was in fine shape entering the CIS nationals in Toronto, and showed the rest of the country what they were made of, edging Trois Rivieres 4-3 in semifinal action and Waterloo 3-2 in the national final.
Despite many similarities to the 1993 national champions (Sean O'Reilly was the only player to play on both teams), coach Hanneman felt the 1996 team shouldn't be compared to the 1993 team, or to any other Axemen team.
"This is a special group of individuals who believed in each other and made a mutual commitment to success," he said at the time. "They played real 'Axemen hockey' – work hard at both ends of the ice, maintain discipline and the proper focus, and make the best of your chances."