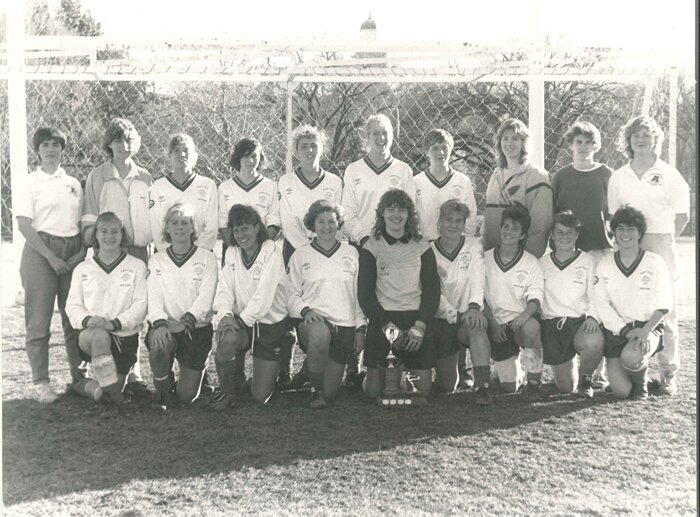 The 1988 soccer Axettes were a dominant force in Canadian Intercollegiate soccer for a second straight year.
However, the team that gathered in Wolfville in the late summer was heavy of heart. Gunnhildur Baldursson, the leading scorer on the 1987 conference champion Axettes, had been tragically killed the previous November. The AUAA leading scorer the previous three seasons, her loss had left a huge hole in the lineup.
The team picked up the pieces and proceeded to have one of the finest seasons in Acadia sports history, advancing to the national final match and narrowly missing a national title.
From All-Canadian keeper Janice Cossar on out, the 1988 Axettes were a powerhouse. Wendi Wells was the conference MVP and would be chosen Acadia's Female Athlete of the Year.
Belinda Campbell joined Wells and Cossar as first-team all-Canadians. Roxanne Ashe was the conference's top rookie, and Laura Sanders was the conference Coach-of-the-Year for the first of three straight years.
Acadia compiled an 8-1-3 regular season record, good for first place in the conference standings. As had been the case the previous season, most of the draws were of the scoreless variety.
Acadia hosted the conference championship, defeating St. F.X. 2-1 in the semi-finals, on goals by Campbell and Ashe. In the conference final, Jodi Silke had the only goal and Cossar earned the shutout in a 1-0 victory over Mount Allison.
Ironically, the result was identical to the conference final the previous year, when Acadia had edged Memorial 1-0, with Silke scoring the goal and Cossar earning the shutout.
Moving on to the nationals in Vancouver, Acadia was recognized nationally as a lethal offensive threat and an unyielding defensive force. Their season totals were outstanding with 43 goals for and only 6 scored against them, leading all other teams in Canada in both categories. Starting out, the Axettes blanked Alberta 1-0 on penalty kicks in the semi-finals.
Advancing to the national final, Acadia dropped a 2-0 decision to Queen's, coming one step closer to a national title than the previous year.
Despite falling short of the ultimate prize of a national title, everyone realized Acadia women's soccer was on the verge of something special.
"We had a great year," coach Sanders was quoted in the Acadia Bulletin, "the best in the history of women's soccer at Acadia. And we'll be back next year to take the third step."
Please join me in welcoming to the Acadia Sports Hall of Fame, in the team category, the 1988-1989 Acadia women's soccer team, worthy conference champions and CIAU national runners-up.