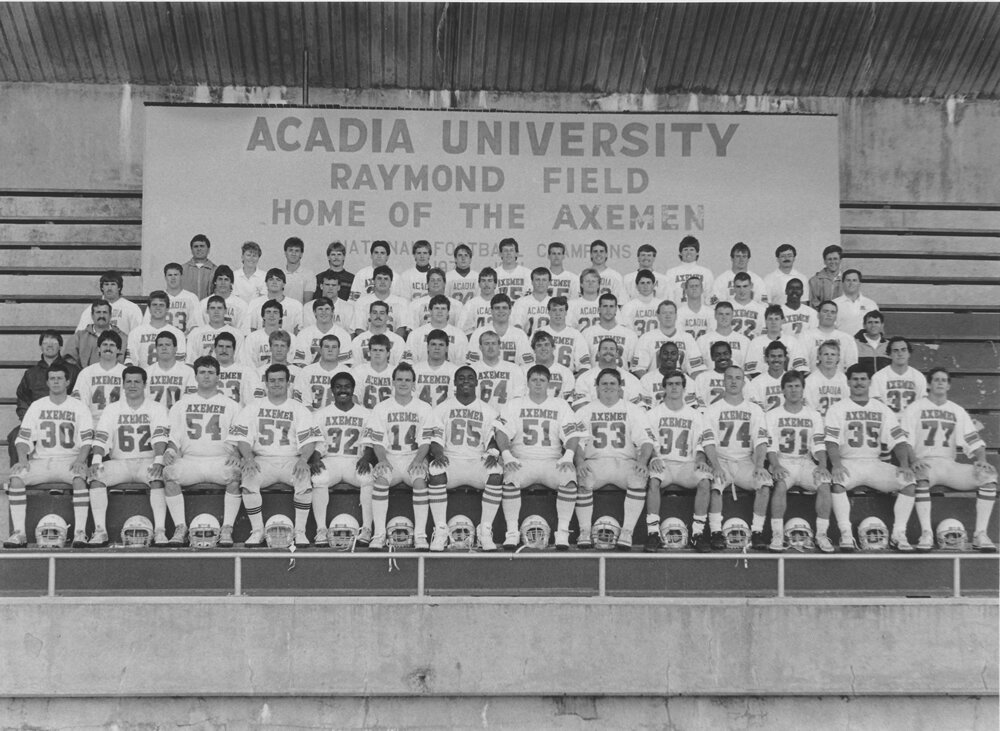 The 1986 Acadia football Axemen provided head coach Sonny Wolfe with his first conference championship, putting together an impressive 7-0 regular season and rolling over the St. Francis Xavier X-Men 29-13 in the conference final.
Acadia dominated the conference during the season, putting up a league-leading 245 points while allowing the fewest points – 67.
The team featured a very balanced offence spearheaded by standout running back Brian Walling and sure-handed wide receiver Paul Masotti.
After downing St. F.X. in the conference final, Acadia lost 29-22 to the No. 2 nationally ranked Western Mustangs in the Atlantic Bowl before a crowd of about 5,700 at Huskies Stadium. The Mustangs would lose to the No. 1 University of British Columbia Thunderbirds in the Vanier Cup.
This Axemen team had 10 conference all-stars and won five major awards, including Wolfe being named coach of the year. Walling was named conference MVP.
Offensive lineman Brett Myles was selected rookie of the year and Chuck Wust was named both the defensive player of the year and special teams player of the year.
Conference all-stars included, on offence: linemen Oral Sybblis and Brad Tierney, receiver Paul Hitchcock, running back Brian Walling and kicker/punter Terry Baker of Truro.
Named to the conference all-star team on defence were linemen Jody LeClaire and Scott Nicholson, linebackers Gar Dickinson and Paul Wetmore, and defensive back Chuck Wust.
Coach Wolfe, a Montreal native who went on to coach at McGill, recalls his squad as being very close-knit and extremely dedicated to the sport, evidenced by the fact that about a dozen of them went on to coach football.
The Acadia Sports Hall of Fame inducts in the team category, Atlantic conference champions, the 1986 Axemen football team.