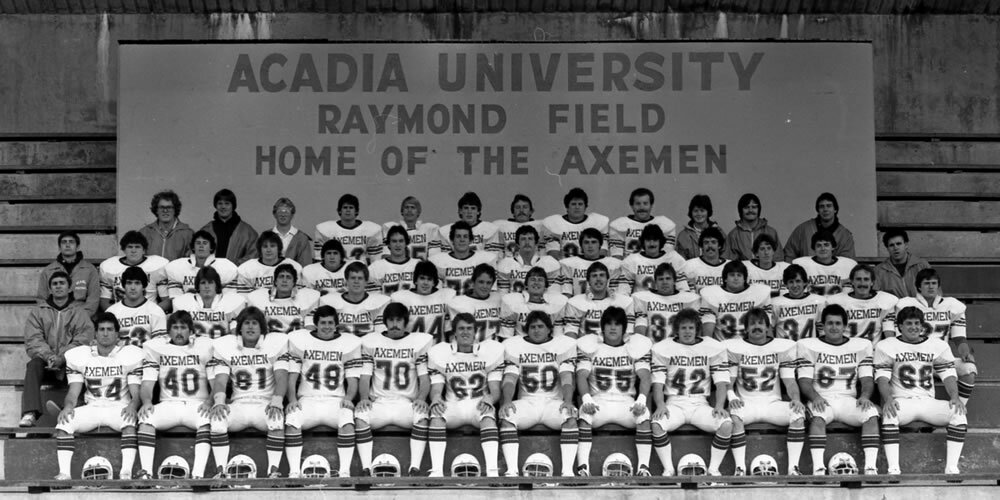 Sandwiched between two national championship teams, the 1980 football Axemen chalked up seven consecutive regular season victories after losing their opening game to Saint Mary's. The red and blue lost 17-15 to the Huskies, but then went 7-0 on their way to another conference championship.
Coached by Waterville, Maine native John Huard, the Axemen avenged that season-opening loss by beating SMU 27-10 in the conference final.
Huard took over the reins from Massachusetts native Bob Vespaziani, who had coached Acadia since 1971. A three-time conference coach of the year who left to coach in the CFL, Vespaziani turned Acadia into a national contender. Huard credits the great work done by Vespaziani with paving the way for his own success in leading Acadia to its first national title in his rookie season in 1979. Huard guided the Axemen to two national championship wins in three years. 
The Axemen dominated their conference, leading in most points scored with 237 and fewest points allowed – 103.
After their season-opening loss, the Axemen pounded Mount Allison 41-0 at Raymond Field, then beat St. F.X. 12-9 in back-to-back home wins.
Acadia recorded its third consecutive win by beating the Mounties 36-17 in Sackville then had an 18-13 home win against Saint Mary's, followed by a 14-12 road win in Antigonish. The Axemen closed the regular season with a pair of wins against UNB: 60-11 in Saint John and 41-24 at home.
They came up short to eventual national champion University of Ottawa Gee Gees, suffering a 28-8 loss in the 20th edition of the Atlantic Bowl in 1980.
The Axemen made their fifth Atlantic Bowl appearance in the past six years and held a half-time lead, but the Gee Gees delivered 24 unanswered points in the second half and denied Acadia another trip to the Vanier Cup.
However, the team featured two All-Canadians in standout fullback Larry Priestnall and rugged linebacker Ed Gataveckas. It also had 10 conference all-stars.
Besides Priestnall and Gataveckas, conference all-stars included centre Mike Cox, tight-end Don Clow, guard Bill Little, tackle Kaz Wesierski, punter Bruce Tufts, defensive back Don Roach, linebacker Scott Baker and defensive end Chris Rhora.
Huard, named coach of the year in 1980, is currently the CEO and owner of Northeast Turf in South Portland, Me.
The 1980 Axemen were undersized, but made their presence felt with team grit and determination. "We were strong and we were quick," Huard says.
"Losing in the Atlantic Bowl that year made us even stronger the next," Huard added. "We had players from the previous national championship, and losing in 1980 made us that much hungrier next season."
The Acadia Sports Hall of Fame inducts in the team category the 1980 Axemen football team, conference champions.