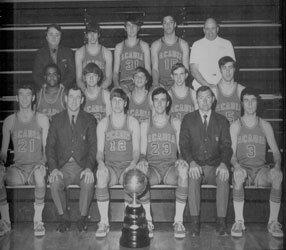 …the conquest of a national championship.
The '70-71 men's basketball team was the second Acadia squad to win the National Championship. Guided by coaches Gib Chapman and Dr. Jim Logue, the Axemen lost but two of their thirty-two encounters. They went through the league schedule undefeated -losing only to Simon Fraser and Hofstra University in early-season tournament play. The season was a total team effort.
At the Nationals held at Acadia's War Memorial Gymnasium, the Axemen qualified for play in the championship game by defeating the Loyola Warriors and the Windsor Lancers by respective scores of 59-42 and 84-55.
In the championship game against the University of Manitoba Bisons, the Axemen established from the opening whistle a very strong defense. By the ten-minute mark of the first half, the team was ahead, 18-8. Forced to shoot from outside, the Bisons' Bob Town and Ross Wedlake were held at bay.
Taking a 30-15 lead into the second half, the Axemen continued to frustrate the Bisons who consequently ran into serious foul difficulties.
In the ultimate 72-48 triumph, Kentville-born Gary Folker did a fantastic job on the boards, while being successful in all eight attempts from the foul line. He and Co-captain Steve Pound, the latter destined to graduate as the Axemen's all-time leading scorer, each collected ten points in the championship game.
Peter Phipps, who was the star in the team's victory over Windsor, was tremendous as team quarterback. Jerome "Bruiser" McGee, who provided much of the muscle under the boards, scored thirteen points. Yet, the star among the stars was the team's co-captain Rick Eaton who, in his final home-game went out with a flourish, scoring twenty-seven points. For his efforts, Rick was named the tournament's MVP and became a unanimous choice for selection to the All-Canadian Intercollegiate Basketball Team. As they had done all season, Paul Talbot, Jon Beausang, Tom Staines, Tom Farrington, Terry Condon, Freeman Schofield, Fred Moczulski, as well as team manager Willis Porter and trainer, the late Harvey Mills all made outstanding contributions to the Axemen's championship victories.