'64-'65 Men's Basketball Team
Inducted into the Hall of Fame in 1989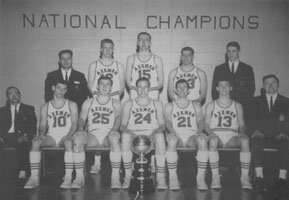 The 1964-65 Axemen's basketball team brought great distinction to their university, conference and province by winning the national title.
Initially, Coach Stu Aberdeen saw the return of seasoned veterans for what looked like a great year. But injuries riddled the starting five. Fourteen or fifteen men had tried out for the squad, but when the dust had finally settled, only Dave Rode, Andy Kranack, Steve Konchalski, Peter Pike, Jim Clark, Scott Lumsden, Brian Heaney, and Ward White remained under the tutelage of Coach Aberdeen and his assistant, Dr. Jim Logue.
Each Conference game was a struggle in itself as several times Coach Aberdeen had only six men dressed to play. Highlighting these early encounters was a January contest against St.Mary's in Halifax when Brian Heaney, in only his second game as a regular, scored 28 points in a 4-point Acadia victory. On another occasion, Heaney's 15 points in the last 12 minutes gave the Axemen a single point triumph over St.F.X. and a first- place position in the Conference. In another big game that season, Dave Rode accumulated 52 points in a 122-41 win over Mt.Allison.
Disposing of St.F.X. in playoff action that season, the Axemen gained the right to compete in the Nationals, hosted in Halifax at the St.Pat's gymnasium. The scoreboard at the final buzzer indicated an 83-79 victory for the Axemen over the Carleton Ravens. The stage was then set for the grand finale -the Aberdeen men to do battle against the Windsor Lancers. The contest, a cliff hanger all the way, saw the lead change hands some 17 times. An overtime surge nailed the National Championship for Acadia at 92-83 and allowed the Valley-based university to become the first-ever Nova Scotia school to win the coveted national title. This accomplishment earned them a spot in Nova Scotia's Sports Hall of Fame.
Steve Konchalski established several Tournament records. His 41 points and 17 field goals eclipsed Warren Sutton's single game highs. His totals of 69 points and 30 field goals "bested" other Sutton achievements. Dave Rode grabbed 23 rebounds to surpass U.B.C's Joe Cook's mark by 6. Brian Heaney joined the Tournament's MVP, Steve Konchalski, on the all-star team.
What a pleasure it is to welcome for induction to Acadia's Sports Hall of Fame members of the 1964-65 national championship team.